Shoreham air crash: Families 'to meet prosecutors'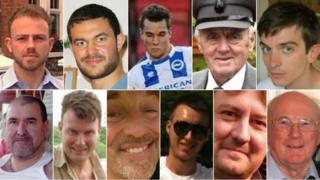 Families of the Shoreham air crash victims are to meet prosecutors to discuss the case - but a solicitor has said he is "not holding his breath" for a charging decision.
Eleven men were killed when a Hawker Hunter jet crashed on the A27 in Sussex on 22 August 2015. Another 13 people, including pilot Andy Hill, were hurt.
Mr Hill has been the subject of a manslaughter investigation by police.
A pre-inquest review into the deaths is due to take place later this month.
The Crown Prosecution Service (CPS) did not comment to the BBC.
'Decision needed soon'
One of the families, speaking anonymously, said next Wednesday's meeting was an "update on the charging process".
They confirmed they would be attending, but said they had not been told at this point what exactly will be discussed.
Solicitor James Healy-Pratt, who represents a number of the families said: "I am not holding my breath for a decision at this point because of previous delays, but I hope that a decision will be made very soon by the CPS for the sake of the families."
West Sussex senior coroner Penelope Schofield postponed an inquest hearing in January.
She said she was still working towards holding the full inquest in the autumn, but the process may have to be suspended if the CPS decides to bring criminal charges.
Last November, Ms Schofield revealed prosecutors had been given a complete case file and were considering their next steps.
At the time, Mr Healy-Pratt called on the CPS to give a "definitive answer" on charges before January's hearing.