Worthing murder: Woman killed by 'family friend'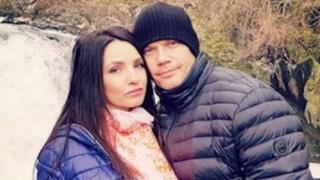 A woman who was found dead in her home was killed by a family friend who then hanged himself, police said.
Maryna Kavaliauske, 35, was strangled at the property in South Farm Road, Worthing, on Friday.
A 43-year-old man, Viasia Chernoff, was found dead in the hallway.
Det Insp Gordon Denslow of Sussex Police said: "We believe Viasia, who was a close family friend of Maryna and her husband Giedrius, murdered her before killing himself."
Mrs Kavaliauske's husband of 15 years, Giedrius, has paid tribute to his wife as "a wonderful mother" to their two young children.
A post-mortem examination on Saturday concluded she died from ligature compression to the neck.