University of Brighton murder accused 'sounded shocked'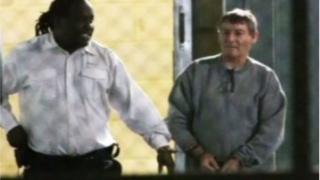 A man phoned the Samaritans and told a volunteer he had "stabbed somebody" on the night he allegedly murdered his boss, a court has heard.
David Browning, 51, of Willow Drive, Seaford, admits killing 46-year-old Jillian Howell but denies murder.
University of Brighton payroll boss Ms Howell was found stabbed at her home in Sandgate Road in October.
The Samaritans volunteer who took the call said Mr Browning sounded coherent and engaging, but "quite shocked".
Hove Crown Court heard Mr Browning, a married father of two, had gone to Ms Howell's house for dinner on 25 October.
Jurors were told when he made the call in the early hours of 26 October, he said: "I've done something really bad."
The Samaritans volunteer, who used the pseudonym Barbara Smith in court, said: "He told me he'd stabbed somebody."
She added: "He'd said it was his boss. It was a woman."
The court heard he told Ms Smith he was still in the house but did not want to look at Ms Howell and "hadn't gone with the intention of stabbing her".
She said: "He was very coherent, very engaging, he sounded quite shocked."
Ms Smith said at the end of the phone call he told her: "I'm going to decide now whether to shoot myself or hand myself in."
Prosecuting, Alan Gardner said phone mast records indicated he was at the house at 19:35 BST and remained there or nearby until 04:00.
He said at about 04:30 a temporary profile image was uploaded to Mr Browning's Facebook page which said: "Stand up to bullies...then kill them."
Mr Gardner said at 06:08 the defendant called police from outside Brighton police station and was arrested by officers who seized a shotgun and a knife.
PC Steven Harrison told the court he went out to meet Mr Browning, who told him: "I wanted to kill myself, but I've killed somebody else instead."
'Suicide notes'
Statements from officers who went to the house were read to jurors, who heard police found a woman on the floor with the word "bully" scrawled on her forehead with a pen.
The jury was also told about a series of "suicide notes" sent to friends and family of Mr Browning.
One addressed to his wife, son and daughter said: "I'm so sorry you're having to go through this. I was waking into tension every day. I know what I've done is wrong... I was fed up of being belittled."
One addressed to his mother and two others said: "I did the right thing and rid the world of a horrid person."
Another addressed to colleagues said: "Of course this was the wrong thing to do... I was fed up of working as her slave."
The trial continues.