Sussex Health Care: Council suspends all new placements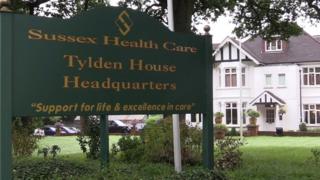 West Sussex council has stopped placing residents at care homes run by a company under investigation by the police.
Sussex Health Care (SHC) is being probed for an alleged lack of care of 43 residents at nine private care homes, 13 of whom have died.
The council said it had concerns about the quality of care provided.
The care company said it had sought to do everything possible to work with the council.
In October, the council stopped new placements to the nine homes under investigation, but it has now widened this policy to 19 of the firm's registered services.
A spokesman for the local authority said: "We continue to work with SHC and other partners including the Care Quality Commission to make sure residents are safe."
SHC said it had sought to address concerns and to put right "numerous misconceptions where the county has been in error".
The company's spokesman said it had appointed an independent expert to help rebuild a positive working relationship with the county, and appointed a new chief executive.
He said: "West Sussex continues to fund their placements with us, and have done throughout this period.
"Our homes and services will continue to provide good quality care to the very many people we support."
The council and the company have said 73 existing placements are still being funded.
In a separate development, Sussex Police confirmed a woman, 57, attended a voluntary interview under caution on Friday over gross negligence manslaughter.
It is the second interview over gross negligence manslaughter - officers have also spoken to a 39-year-old woman.
In November, another woman was arrested on suspicion of neglect and fraud and released under investigation. SHC said it continued to cooperate with police.