West Sussex mum and step-dad jailed for child abuse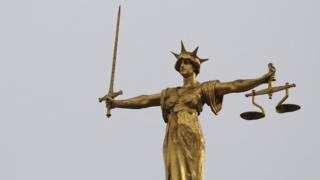 A mother and her former partner have been jailed for the "abhorrent" rape and abuse of her children.
The defendants, who cannot be named, raped the woman's older daughter between 1975 and 1981, and abused her younger sister, in West Sussex.
The step-father was sentenced to 13 years in prison for two counts of rape and two of indecent assault.
The mother was sentenced to eight years for one count of rape on the basis she "actively encouraged" the abuse.
Judge David Tomlinson, at Southwark Crown Court, said: "There must have been significant planning.
"The betrayal of trust and abandonment of all semblance of care was abhorrent."
'Badly damaged'
To the woman, he added: "You encouraged the offence and set about aiding and abetting it by talking your eldest daughter into submitting to him."
He added that the older victim had already been "badly damaged" before the attacks, which caused her "severe" physical and psychological harm.
In a victim statement read to the court by prosecutor Jose Olivares-Chandler, she said: "It's the age-old nature versus nurture. My childhood was purely nature - no love, just survival."
During the trial, jurors heard social services dismissed the two sisters as "troublesome teenagers" when they reported it.
However the judge said he laid no blame at the door of social services because the older girl had given those who tried to help her "insuperable difficulties" even before the attacks.
The sisters, now in their 50s, lost touch in adulthood and reported the abuse separately to Merseyside Police in 2013 and Dorset Police in 2011.
The step-father and mother, now separated and in their 70s, were tracked down in Stowmarket, Suffolk, and Ireland respectively.
They were found guilty by majority verdict at an earlier hearing.