Libyans demonstrate on Teesside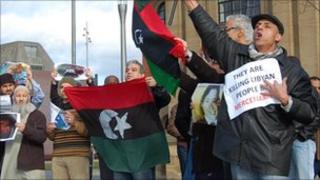 Around 40 Libyans have staged a demonstration in Middlesbrough, calling for action against Col Muammar Gaddafi.
The town has a sizeable Libyan immigrant community and many taking part were in contact with friends and family in the war-torn country.
The demonstration happened as David Cameron arrived at an emergency EU summit in Brussels.
The Prime Minister said he expected further measures to isolate the Gaddafi regime.
At the Middlesbrough demonstration, organiser Jamal Htewash said: "People are defenceless at the moment. They can't do anything, they can't even leave their houses.
"He's got snipers all over the buildings; all high buildings have got snipers in them. Anybody who leaves his house, that's it - he's shot."