Teesside Northshore to undergo £300m regeneration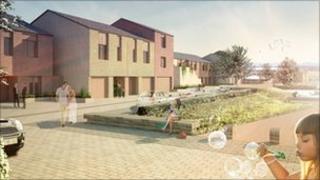 A Teesside riverside area is to undergo a £300m transformation which it is hoped will create thousands of jobs.
The Northshore Development Partnership has announced the revamp of Stockton's Northshore area, which is within walking distance of the town centre.
Work on new offices, sport facilities, houses and shops is due to begin at the end of March.
The partnership hopes the regeneration of the area will create and attract more than 4,500 new jobs.
New facilities will also be built on the site to expand Durham University Queen's Campus.
Stockton Council's Cabinet Member for Regeneration and Transport, Councillor Bob Cook said: "It is fantastic to see our vision for regeneration progress despite the challenging economic climate.
"The Northshore development is just one element of the wider regeneration of Stockton borough which is already seeing significant investment on the riverside including the £4.6m Tees Barrage white water course."
The project is a partnership between Homes and Communities Agency (HCA) and Stockton Borough Council.