Football fans back Middlesbrough's city campaign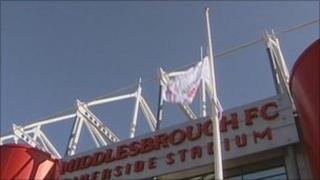 Football fans are being asked to show their support for Middlesbrough's campaign to be granted city status.
The town, along with a number of others, is campaigning for the status as part of the Queen's Diamond Jubilee celebrations next year.
Fans at Middlesbrough's match against Watford on Saturday were being given flags and other merchandise with the campaign's branding.
A flag was also being hoisted on a pole beside the Riverside ground.
Lovemiddlesbrough manager Claire Wordsworth said if Middlesbrough was successful, it would be a major boost for the whole area.
She said: "We are hoping it would bring investment, much-needed jobs and really boost our confidence."
One award of city status will be granted with the winner announced in the first half of 2012.