Middlesbrough charity 'disappointed' at HIV rise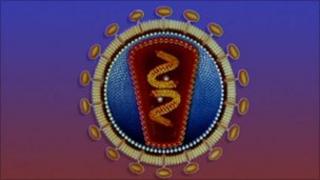 There has been a small increase in HIV infections in the North East, while infections nationally have fallen.
Provisional data from the Health Protection Agency (HPA) shows 140 new cases of HIV in the North East in 2010, a rise of 4.4% over the 2009 figure.
Over the same period, the UK figure fell by 7.2% from 6,617 to 6,136.
Staff at Middlesbrough-based HIV support charity Teesside Positive Action said the rise was disappointing and called for better education.
The HPA has stressed that the full picture of HIV infections in 2010 will not be clear until later this year.
Early diagnosis
Dr Kirsty Foster, consultant in health protection for the HPA in the North East, said, "This year's provisional figures show a small rise in the number of new diagnoses of HIV in the North East.
"However this is provisional data and we will only know the true figures later in the year."
Chris McCormack is an HIV support worker at HIV support charity, Teesside Positive Action.
He said, "Obviously it's disappointing to hear that 140 people have been infected, but this just outlines the need for education and prevention work and condoms remain paramount to that.
"Treatment for HIV is very good in the UK, probably the best in Europe, arguably, but those treatments are at their most effective when people are diagnosed early and by that I mean before they become symptomatic."
While the number of new diagnoses dropped across the UK in 2010, it has almost doubled over the past decade.
Fast test
For the past five years the charity, in partnership with Middlesbrough's James Cook Hospital, has run a 'rapid testing' facility that can give an indicative result for HIV infection in a matter of minutes.
The Health Protection Agency says testing for the infection must be increased, so more cases are diagnosed early.
Free, confidential testing for HIV and all other sexually transmitted infections is available at Genitourinary Medicine (GUM) clinics and GP surgeries.