Work begins on £20m Stockton town revamp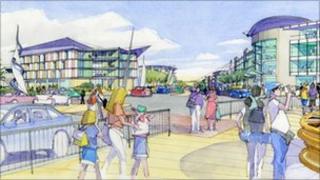 Work has begun to clear a site which is deemed key to the regeneration of the southern part of Stockton town centre.
Stockton council is planning a £20m revamp of the town centre to attract more shoppers and businesses.
The former Glynn Webb DIY building at Chandlers Wharf is to make way for a redesigned road junction where Bridge Road, Riverside, 1825 Way and the Churchyard Link Road meet.
The new road layout will also form part of a new bus network.
The £57.6m Tees Valley Bus Network Improvement Scheme is designed to improve public transport across the area.
Traffic lights
The roadworks scheme - which are not due to start until Spring 2012 - will re-align Riverside to run across the former Glynn Webb site and connect directly onto 1825 Way.
The council said the new junction would increase road capacity and reduce bus journey times.
It will also create a "better connection from the South Stockton Link into the town centre to support its economic growth and vitality."
Steam locomotive
Traffic lights are planned to replace the existing roundabout, with new bus lanes in each direction on Bridge Road to link Victoria Bridge and Stockton High Street.
The steam locomotive currently on display in the junction, built in Thornaby in 1870 by Head Wrightson & Co, will be relocated alongside the new layout.
The scheme should be completed during summer 2013.
Paul Dobson, Stockton Council's Corporate Director of Development and Neighbourhood Services, said: "Clearance of the old Glyn Webb building is the first major step in improved public transport and regenerating this part of Stockton town centre.
"Its design will also enable us to create an attractive, modern entrance to the southern part of the town centre, as the first, important step to regenerating this part of Stockton, and improving links between the town centre and the A66, Ingleby Barwick and Yarm."