'Sacred Places' calendar launched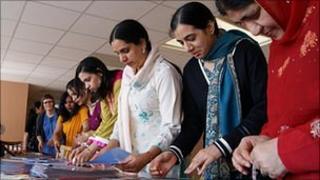 A group of women from various faiths across Teesside have created a calendar inspired by visits to sacred places.
The calendar is the result of a project by the Middlesbrough based Supporting Sisters group.
Supporting Sisters was set up to help young mothers, who often feel socially isolated, to get out of the house.
It now attracts women from all backgrounds, and runs activities around skills development, and physical and mental well being.
The Supporting Sisters' Calendar Project explored the importance of women in, and respect for different faiths in the community.
Family friendly
Contributor Ayesha Siddiqa said: "I think the good thing about it was you could bring your children, you don't have to leave them with a babysitter.
"So I brought my baby and got involved and it was really, really good. I really enjoyed it."
Artists Sophie Ingleby, Nicola Parkin and Laura Degnan have worked with the women to develop their photography, poetry and design skills throughout the project.
The group visited different sacred places in Middlesbrough and listened to talks by people of different faiths.