Traders angry at plan to move Stockton town hall market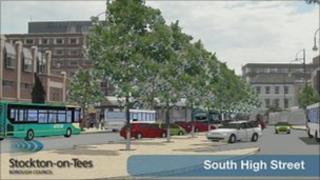 Teesside market traders have called for more consultation on plans to redevelop the centre of Stockton.
Stockton Council said the £20m regeneration would boost business and attract more shoppers to the town's historic High Street.
But traders in the 700-year-old town hall market are angry at being told they will be moved to another site.
More than 5,000 people have signed a petition urging council bosses to keep the market where it is.
The council wants to relocate the market to the south of the town hall, with the existing site opened up to create a plaza.
A spokesman for the traders said: "It is hard enough as it is to keep customers coming into the town, but if we move again like we did a few years ago it is going to be worse.
'Vitally important'
"It's diabolical. Why do they need to change the history of the market?
"The market stall-holders are not against change, but why change something that is successful?"
Richard Poundford, head of regeneration for Stockton Council, said there was no alternative to moving the existing market.
He said: "The process of the town centre redevelopment is not just about the market.
"The traditional market is vitally important, but we also want to bring in new markets to broaden the appeal of what we already have.
"Our proposals are about concentrating the existing market in a place where they won't have to be moved in the future.
"We do listen to concerns and want to work with the traders to configure the new site."