Transporter Bridge centenary book launched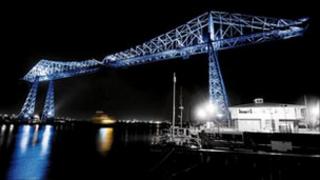 The Transporter Bridge is celebrating its first century with the launch of a book in its honour.
It is one of only six such bridges still in operation throughout the world, and the only one of its type in England still in working order.
The bridge was bombed during World War I and became a TV star thanks to Auf Wiedersehen, Pet.
The Transporter - 100 years of the Tees Transporter Bridge is the story of the bridge from start to finish.
Centenary celebration
The symbol of Teesside, the bridge celebrates its 100th birthday in October this year and the book kicks off a year of celebrations to mark the towering structure's special occasion.
Published by Middlesbrough Council, the 200-page hardback tells the history of the bridge that dominates the Teesside skyline, one foot in Middlesbrough and the other in Port Clarence, Stockton.
It tells of the ferry system that preceded the bridge, explains why the Transporter was built and of its heyday when no fewer than 5.1m pedestrians a year - most of them workers from the thriving steelworks and shipyards - crossed the Tees on its travelling carriage.
The Transporter also reveals how the bridge was bombed by a German Zeppelin in WWI and again in WWII.