Lifeboat called to stricken rig off Hartlepool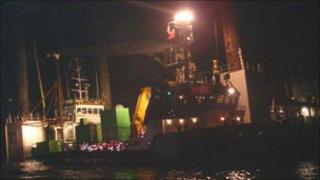 A drilling rig off the coast of Teesside was evacuated after two of its four legs became stuck on the seabed.
The vessel, which was carrying out survey work for a planned offshore wind farm, got into difficulty in the early hours of Tuesday off Hartlepool.
A tug and the Hartlepool lifeboat took 16 of the 19 crew to shore amid fears the rig might be flooded by high tides.
Three crew remained on a standby vessel and later managed to free the rig from the seabed.
None of the crew was injured.
'Life-threatening scenario'
The mobile platform - known as a jack-up rig - is able to stand on the sea floor by means of four extendable legs.
The owner of the platform, which is carrying out surveys for a wind farm in Tees Bay, is based in Belgium.
Humber Coastguard watch manager Drew Mahood said: "The initial evacuation was handled quickly and efficiently by the rig's own standby vessel.
"Without swift action the rig crew would certainly have been faced with a life-threatening scenario.
"As it is, most of them are now safely ashore and being looked after by their parent company."