Teesside biofuels company closes to tackle bad smell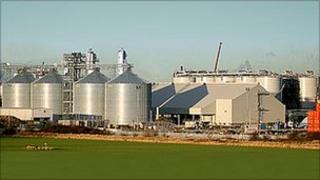 A biofuels company has temporarily closed to tackle a bad odour coming from the plant, which has sparked complaints from residents.
Ensus opened its bioethanol plant at Wilton in 2009. But since March 2010 residents have complained of a brewery-like smell coming from the facility.
The Environment Agency ordered the firm to take action and it is spending £6m on new equipment to tackle the problem.
Ensus hopes to restart production later in the month.
The smell is produced by the process of turning wheat into fuel, Ensus said.
It needs to halt production to install the equipment - two thermal oxidisers.
'Occasional smell'
The company has until 31 May to make sure the oxidisers are working properly or the Environment Agency could take action.
Julian Carrington, spokesman for the Agency, urged nearby residents to be patient while the new equipment was checked.
He said: "During the first few weeks, there could be an occasional smell while staff fine-tune the equipment.
"However, the oxidisers are a proven solution to smells from this type of plant, and we are confident that they will tackle the odour problem once they are fully tested.
"I would like to say thank you to all the people living near the plant for their patience while a solution to the smells was being developed."