Protest petition over plan to move Stockton market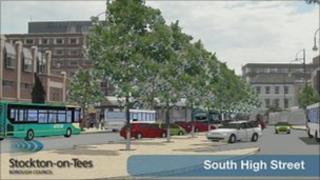 More than 8,200 people have signed a petition urging council bosses not to force a centuries-old Teesside market to move from its current site.
Traders at Stockton's 700-year-old town hall market are angry at being told they will be moved as part of £20m regeneration of the town centre.
Stockton Council has said relocating the market to the south of the town hall would help attract more visitors.
But traders have argued the move could put off shoppers.
The petition is due to be handed to council officials on 7 May.
Petition organiser Paul Leng said: "It is hard enough as it is to keep customers coming into the town, but if we move again like we did a few years ago it is going to be worse."
Stockton Council wants to relocate the market to the south of the town hall, with the existing site opened up to create a plaza.
A spokesman said: "The traditional market is vitally important, but we also want to bring in new markets to broaden the appeal of what we already have.
"Our proposals are about concentrating the existing market in a place where they won't have to be moved in the future."