New dogs for mountain rescue team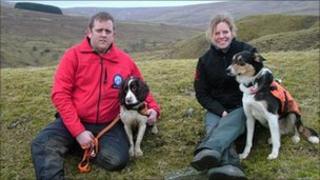 Two new search dogs have joined Teesdale & Weardale Search & Mountain Rescue Team.
Sam and Fern and their handlers Karen Fisher, from East Hedleyhope, and Graeme White, from Shildon, recently finished a two-year training programme.
Only half of the dogs and handlers who set out on the scheme finish the course.
Mountain dogs search for a human air scent whereas other dogs tend to track an individual's scent along the ground.