Riverside Stadium is part of Middlesbrough 5k road race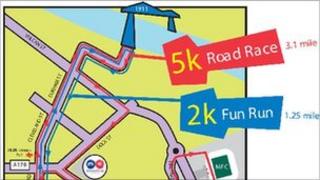 Middlesbrough's Riverside Stadium has been the venue for football drama over the years - but will soon host sporting endeavour of a different kind.
The route of the Middlesbrough 5k road race will go inside the football ground for the first time.
Race director Jimmy Wattis said: "Runners will run where the greatest managers of the game have stood."
The race, on 15 May, will also visit the Transporter Bridge - which celebrates its 100th birthday.
The 5k and 2k races, now in their third year, have proven extremely popular with runners of all abilities.
Both runs start on Albert Road near the Town Hall.