Loftus royal treasure to go on display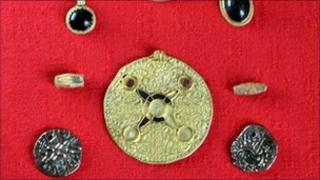 A collection of 7th Century treasure found in Loftus is set to go on show to the public for the first time.
The artefacts were found between 2005 and 2007 at the only known Anglo-Saxon royal burial site in north-east England.
They have been hailed by archaeologists as some of the rarest ever discovered.
The spectacular finds will be exhibited at Kirkleatham Museum, Redcar, from Saturday 28 May.
Some of the pieces from the collection are associated with a rare 'bed burial' in which a female body was laid out on a decorated wooden bed accompanied by fine gold jewellery.
The finds include a striking gold pendant - said to be "unparallelled" in the Anglo-Saxon world - which would have belonged to a princess, as well as glass beads, pottery, iron knives, belt buckles and other objects.
Painstaking conservation
They were uncovered by Redcar archaeologist Steve Sherlock, together with members of the Teesside Archaeological Society, at a 109-grave site at Street House, Loftus, which dates back nearly 1,400 years.
After their discovery the objects were declared treasure by a coroner and, following a debate in the House of Commons, they were allowed to remain in the Redcar and Cleveland area and purchased with the aid of a Heritage Lottery Fund grant.
The exhibition has been arranged by Redcar & Cleveland Borough Council and follows a painstaking process of conservation and research in recent years.
The Kirkleatham display, for which admission is free, will offer visitors a glimpse into life in Anglo-Saxon times.
Teesside-born actor Stephen Tompkinson has narrated a film about the find and a 360-degree image of the excavation site can be viewed.
Visitors will be able to look inside a replica Anglo-Saxon house and there will be costumes for children to dress up in.
Mr Sherlock said: "This is a spectacular discovery that has attracted the imagination and attention of people from all over the country. It is great for the region that these objects will go on display in Redcar."
A smaller-scale exhibition for residents of Loftus is taking place in the town hall, starting on Monday 9 May.
For more information go to Redcar and Cleveland Museums.