Young Stockton singer in national competition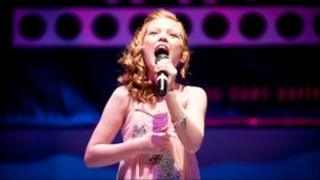 Amelia-Jade 'AJ' Wilde from Roseworth in Stockton has made the national finals of Britain Does Variety.
The 11-year-old has high aspirations, and dreams of performing in the West End.
In her audition she sang 'Somewhere over the rainbow', and one judge described her as 'A little girl with a big voice'.
Amelia said: "I am excited by the audition. I'm one step closer to my dream!"
Amelia-Jade, who prefers the stage name AJ, has been taking singing lessons for a year, and also attends a dancing school in the town.
AJ will now perform in front of a live audience and a number of famous musician judges.
She said music helps her express herself: "I'm dyselxic and can be myself when I sing.
"I sang at school for the very first time at christmas and had the teachers in tears.
"My family are very supportive. They help me follow my dreams. No-one can sing in my family... I dont know where I've got this talent from!"