No School Reunion gigging again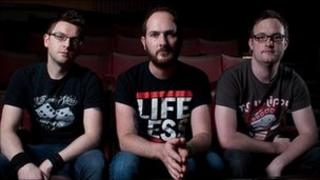 Stockton band No School Reunion have been together for 10 years this month and to celebrate, they've started gigging.
The group, made up of Phil Saunders, Kev Ellison and Ian Thomas, grew out of the ashes of Skeat aka Helter Skelter.
The three musicians made a pact to do one gig per year, and always bill it as their last.
But with 10 years behind them, they've decided to make a go for it, and become a full time rock band.
Socially savvy
Phil Saunders explains how things have changed over the years: "Social networking makes it so much easier to be in a band now.
"Our mates, who used to make up our audience, are all older, with mortgages and a lot less free time on their hands, so getting a following online is a God send.
"Facebook, Twitter, Tumblr; all make it easier to organise a gig and promote it, but because they're so easy to use, good bands get lost amongst all the rubbish, so you have to really search and sift to discover the gems... a bit like shopping at TK Maxx."
"We plan to keep going, play as much as we can and keep writing. We write a lot of songs and we write fast.
"Our new EP, "Stockton On Tees" is out in June on our own Record Label "Massive Skull" and Henry from Ten Feet Tall asked us to play Intro Festival on 5 June, opening the local bands stage."