Historic ship repairs nearly done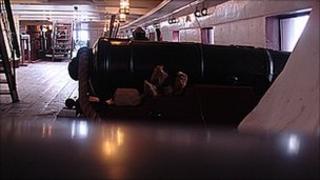 Repair work to one of Teesside's best known tourist attractions is nearing completion.
A number of timber beams had to be replaced on board HMS Trincomalee, berthed at Hartlepool Historic Quay.
Essential work has also had to be carried out on the side walls and mizzen mast.
Built in India in 1817, HMS Trincomalee is the oldest British warship still afloat and attracts thousands of visitors every year.
HMS Trincomalee Trust general manager David McKnight said: "To keep these ships in the sort of condition this one's in, there's always work to do."
Accessing the correct materials to carry out the repairs, including a hardwood from Africa called opipi, proved a mammoth task, he added.
"It probably took about six weeks to get the timber. There are a few merchants in the UK, but the trouble with opipi is you get an awful lot of what they call 'the shakes' in it.
"That's these cracks in the wood here. Opipi is actually very prone to it, so you've got to get a good piece of timber that doesn't any real deep shakes.
"Some of the stuff that came from the importers had shakes in it that was nearly three quarters of the way through the timber."