Couple revisit Domesday project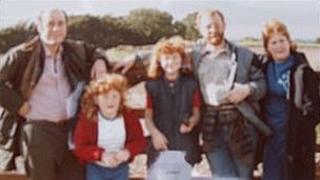 In 1986 the BBC launched a project to record a snapshot of life across the UK. A million volunteers took part.
Now, 25 years later you can explore the archive online, see the pictures and update the information.
You can also make your mark on this fascinating record of our collective history.
BBC Tees caught up with former Teesside steel worker Derek Partington and his wife Tricia, who were featured in the original project.
Derek left the steel industry on Teesside 10 years ago and, until recently, worked for Stockton Borough Council.
For the first time, they read their family's entry in the book, written by their daughter, when she was a pupil at Appleton Wiske Primary School.
"The alarm sounds at 7.20am to awaken the Partington Family, who live in Walcote house, Appleton Wiske, to a typical Wednesday.
"Breakfast, not necessarily taken together, consists of a bowl of cereal each, sometimes toast and orange juice. Ruth, aged 11, leaves the house first to catch the school bus to Allertonshire Comprehensive School some 7 miles away.
"Derek, the father, leaves next to drive 19 miles to his work as a Research Manager at British steel's Teesside Laboratories in Middlesbrough. Faye, aged 8, is the last to leave, walking about 600 metres to the Village Primary School.
"The mother, Tricia, may stay at home all day alternating between machine knitting, to produce sweaters in Shetland Wool for sale through her small business or she may spend some time shopping in Yarm or Middlesbrough. Faye Partington"
"It was probably a typical day," agreed Tricia. "She's captured everything and to say she was only eight, the grammar's quite good. I wonder if anybody tweaked it.
"It's a nice thing to see. It's lovely after all these 25 years."
Today, the Partingtons still live in the same house in the village of Appleton Wiske near Northallerton, in North Yorkshire.
Derek said, "We thought when we moved into this village we'd be leaving within about five years, because I tended to be an itinerant British Steel employee, sort of moving from one works to another, if you like.
"But we sort of fell in love with the village, especially the community spirit and despite thinking about moving, we're still here some nearly thirty years after we moved in."
Derek could not help laughing as he read a second document from the 1986 Domesday book, written by his daughter.
"The family reassemble for the evening meal around six pm. Usually they have some form of meat, plus two vegetables followed by a sweet, or cheese.
"Before the meal, the children will have practised their musical instruments, Ruth the flute and Faye the oboe. Ruth will have some homework to do.
"As it is Wednesday, they will be off to Brownies in the village hall at six thirty pm.
"Derek will go to Morris Dancing practise in Yarm at about seven thirty and Tricia will have a Yorkshire Countrywomen's Association meeting in the village hall at the same time, so a babysitter will be required."
While Derek no longer morris dances, he says he enjoyed the hobby. "It was really good. It was the most energetic exercise I've ever had apart from when I did aerobics and, of course, it involved a lot of drinking, which was good."
Tricia is no longer a member of the Yorkshire Countrywomen's Association, but still occasionally attends their events as a visitor.
Modern memories
In addition to making the entire community disc available online, the Reloaded project aims to continue Domesday's original mission.
21st century users are being encouraged to update the archive by adding their own photographs and written insights.
Through the BBC Domesday website, contributors can upload new text entries and digital images.