Teesside landslip road reopens after three years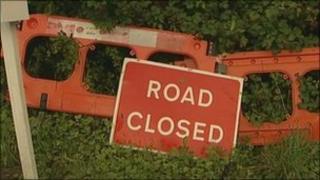 A road closed for safety reasons on Teesside has reopened to traffic after three years.
In 2008, heavy rain caused a landslip at the side of Liverton Mill Bank, which led to the closure of the road to Moorsholm from the A171.
Residents wanting to reach the nearest town had to make lengthy detours.
Redcar and Cleveland Council carried out bank stabilisation work and installed a safety barrier, and it reopened on Monday.
Councillor Steve Kay said that the closure had caused "tremendous inconvenience and expense" to local people.
"The round trip from Moorsholm to Loftus has been increased from eight miles to fourteen miles, whilst the return journey from Liverton Mill to Loftus has shot up from six miles to sixteen miles," he said.
"This has meant that regular travellers have clocked up thousands of extra miles at the cost of hundreds of extra pounds over the three years.
"Isolated communities like Moorsholm, with no shops or even a community post office, must be able to access local towns at all times."