Man killed in Hartlepool car explosion named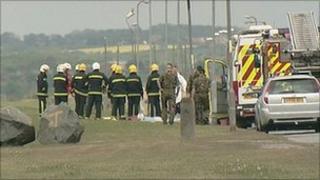 A man who died in a car explosion in Hartlepool has been named by police.
The body of David Bagley, 58, was found in a blown-out blue Nissan Micra in the Old Cemetery Road area of the town early on Wednesday.
Cordons were set up around the vehicle and the flat where he lived in nearby Navigation Point. More than 100 properties were evacuated.
Police have said they are not looking for anyone else and have confirmed the incident was not terror-related.
Residents were allowed back into their homes around Navigation Point at the town's marina, early on Thursday.
Cleveland Police said although investigations were continuing at the flats, it had been deemed safe for residents and businesses to return.
The inquiry was treated as a major incident on Wednesday.
Officers are still trying to trace Mr Bagley's next-of-kin.
Two police officers and three ambulance staff suffered minor throat irritation and the decontamination process involved washing with soap and water. They were later released from hospital.
A rest centre was set up at Hartlepool's Maritime Experience on Wednesday for people who had been evacuated.
A force spokeswoman said emergency services wanted to thank those who had been affected by the evacuation for their co-operation.