Police find note at home of Hartlepool car blast man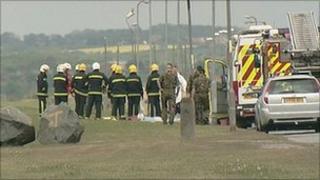 Police have recovered documents from the home of a man who died in a car blast in Hartlepool which suggest he intended no harm to other people.
The body of David Bagley, 58, was found in a blown-out blue Nissan Micra in Old Cemetery Road early on Wednesday.
Cleveland Police have not released details of items found at his flat, but stressed they are not looking for anyone else.
Police also believe the explosives were fashioned from household products.
Supt Glenn Gudgeon, of Cleveland Police, said the Micra was registered to charity worker Mr Bagley's second floor flat at Navigation Point at Hartlepool Marina - about a mile from the site of the explosion.
He said: "We did find a note indicating that this gentleman did not intend to cause any harm to anybody else by what he did.
"The indication at this stage is that this man intended to take his own life."
A cordon still remains at the site of the explosion as forensic experts continue their investigation.
Residents were allowed back into their homes around Navigation Point at the town's marina early on Thursday.
Officers are still trying to trace Mr Bagley's next-of-kin.
Two police officers and three ambulance staff suffered minor throat irritation and the decontamination process involved washing with soap and water. They were later released from hospital.