Colombian peace campaigners visit Middlesbrough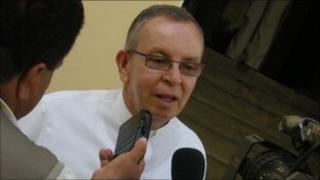 Three Catholic Colombian peace campaigners will visit Middlesbrough in June to appeal for support.
Middlesbrough Bishop Terence Drainey returned from his CAFOD visit to the country, and invited Monsignor Héctor Fabio Henao, a leading figure in the peace process there, to come visit.
He'll also be joined by community leaders Mrs Mélida Esther Guevara and Mr Jesús Alberto Castilla Salazar.
The three campaigners will take part in masses and talks as part of visit.
Support and prayers
Mgr Henao is the Director of Social Action in the Colombian Catholic Church and negotiated the release of British cameraman Mark Henderson in 2003, after he was held hostage for more than 100 days by Colombian guerrillas.
Mgr Henao will join Bishop Drainey to celebrate the 10:00 BST Mass on Sunday 5 June at St Mary's Cathedral in Coulby Newham.
The Colombian visitors will also speak on Saturday 4 June at Holy Name of Mary Parish Hall and St Joseph's parish.
They will be asking people in the UK to help them to bring about peace by supporting organisations like CAFOD.
Speaking in advance of the visit, Bishop Drainey said: "As Christians we believe that peace depends on justice.
"That is why the Catholic Church's support for communities seeking to recover land stolen from them in the Colombian conflict is so important.
"In the name of the Church in Middlesbrough, I offer them our support and prayers."