Billingham police start tweeting to reach community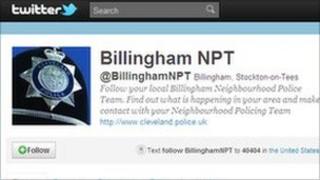 Police officers serving Billingham will now be tweeting information to help keep people within the patch safe.
The Twitter page will include updates on how priorities are being tackled in the area.
They will be joining three other neighbourhood police teams within Cleveland Police who already use the microblogging site.
"It's an extra communication channel for the local community," said Insp Andy Fox.
"Twitter was a fairly new concept for me, but Billingham has a strong sense of pride and I'm sure those who are already on Twitter will follow our page and for those who aren't, it is definitely a good reason to sign-up."
Officers will be tweeting under the name @BillinghamNPT.