Stockton firefighters celebrate 30th fire engine rally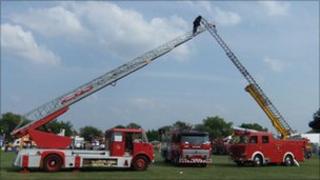 Serving and retired firefighters in Stockton are celebrating the 30th anniversary of one of the country's oldest fire engine rallies this weekend.
The annual Fire Engine and Vintage Vehicle Rally, held at Preston Park in Eaglescliffe, celebrates the history of firefighting from the past to modern day.
Now in its 30th year, this year's event takes place on 25 and 26 June.
The weekend displays a host of modern and vintage fire engines, along with a selection of vintage cars, military and commercial vehicles and farm machinery.
Firefighters from the Cleveland Fire Brigade will also be carrying out a simulated road traffic rescue demonstration and giving out fire safety advice.
'Key messages'
All proceeds from the weekend go towards the Fire Service Benevolent Fund and Great North Air Ambulance.
Steve Owens, from Thornaby and Yarm Fire Stations, said: "Everyone at the brigade is really looking forward to the event which presents us with a great opportunity to get our key safety messages across to the people of Cleveland and beyond."
Organised by serving and retired fire personnel, the event was originally held at Teesside Airport but moved to Preston Park in 1989.
Organiser Brett Clayton said: "It's great to receive the support from local fire and rescue services.
"In addition to Cleveland Fire Brigade, we also have a fire and rescue presence from Durham and Darlington, North Yorkshire and Northumberland."
Other attractions include fire fighting displays, the James Dylan Stunt World, Haurel and Lardy comedy duo, a fun fair and a portable sports arena.
The event is on Saturday and Sunday, 25 and 26 June, from 1000-1700 BST.