Redcar woman helps to protect civilians in Libya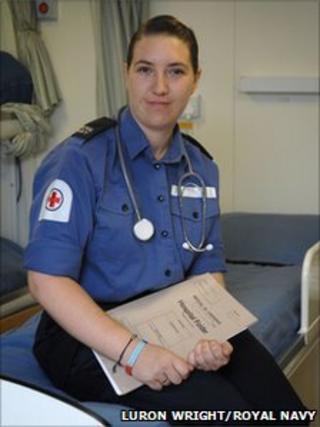 A woman from Redcar who left behind her job in a fish and chip shop to work for the Royal Navy is now helping to protect civilians in Libya.
Robyn Buckle, of Saltburn-by-the-Sea, Redcar, works as a medical assistant on board HMS Albion.
She is part of a major deployment to the Mediterranean and Middle East, as well as supporting international efforts to protect Libyan civilians.
The task group was sent to the Libyan coast in May.
The 25-year-old helps provide healthcare on board the ship and is part of a team poised to respond to emergencies such as fire, floods, battle damage or a man overboard.
She said: "In a crisis situation I would be among the first people on the scene in order to assess and treat any casualties.
"It is something we train for on an almost daily basis so it becomes second nature.
"I always wanted a career where I could help people, so the role of medical assistant in the Royal Navy appealed to me straight away."
"The job is hands on. On a daily basis I could be doing anything from vaccinations and first aid to patient referrals, so I learn and experience new things every day."
The 18,500 tonne assault ship is leading the Royal Navy's Response Force Task Group, a maritime quick reaction force consisting of ships, helicopters and Royal Marines.
In May the group was diverted to the Libyan coast in an effort to increase pressure on Colonel Gaddafi.
Apache helicopters from HMS Ocean were launched against selected military targets ashore, whilst HMS Albion acted as the floating command platform directing and guiding the task group.