Clean-up operation on River Tees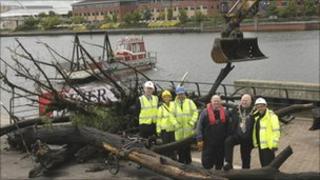 The River Tees has been cleaned with the help of local businesses, river users and public organisations.
A team worked together to remove unsightly natural debris and objects that had been washed downstream.
They filled two skips with debris and retrieved a dozen trees, garden furniture and an old bike.
Enough plastic bottles to fill 37 bin bags were also retrieved from the river.
The main focus of the clean-up was on the stretch of river around the River Tees Watersports Centre, near Stockton's Infinity Bridge.
'Main vein'
The Tees River Users' Group came up with the idea for the event and worked with Stockton Council to make it happen.
Stockton Councillor Paul Baker said: "A considerable amount of debris is washed down the river, particularly after heavy rain.
"This work will keep the area looking attractive and help users of the River Tees Watersports Centre by keeping the slipway clear and through dredging the river of submerged debris."
Mr Baker added: "It's the main vein of the town, lots of people come down here in their kayaks and canoes. It's really well used, not just for leisure, but for pleasure as well."
The River Tees runs through Teesside and the Tees Valley, from the Pennines to the sea.