Hidden paintings on show for the first time in Teesside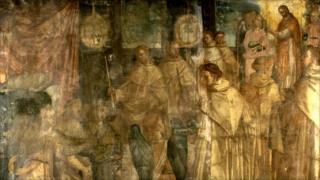 Paintings that have been hidden away or rarely seen are to be made available to the public.
In the UK, a collection of about 200,000 works of art are all owned by public bodies but only 20% are on general display.
They are either hidden away in storage or are in buildings that the public can not access.
But now hundreds of years of oil paintings will go on show online so the public can find where to view them.
The Bowes Museum has a collection of oil paintings that they cannot put on display for conservation reasons.
However, they make their reserve collection available to researchers and visitors by appointment so that they can still be admired.
The Last Communion of St Peter Nolasco (1611) by Francisco Pacheco is one of a series of nine paintings owned by The Bowes Museum and it has never been on display to the public.
It is a work of great significance to the history of Spanish painting, an area in which The Bowes Museum has an important collection.
A portrait of Jacob Christian Schäffer (1718-1790) by an unknown artist and A Miracle of Father Francisco de Torres Attacked by Robbers (1731) by Juan Garcia de Miranda are just some of their other hidden gems.
Local art
The Hartlepool Museums & Heritage Service currently has around 250 oil paintings in storage.
Paintings from the collection are regularly used in temporary exhibitions at Hartlepool Art Gallery and some of them are on permanent display at the Museum of Hartlepool.
One of their most treasured oil paintings is by Hartlepool born Margaret Green.
Donated by the artist herself in 1996, the oil on canvas painting Seaton Carew Beach has been on permanent display at the Museum of Hartlepool since 2008.
Your Paintings will bring together all these artworks, with the stories behind them, and where to see them for real.
More information about what other paintings are now available and where you can see them can be found on the Your Paintings website.
The Your Paintings project is a collaboration between the BBC and The Public Catalogue Foundation.
Between 24 June - 24 July selected highlights of the Your Paintings collection will be viewable on the BBC Big Screen in Middlesbrough.