New Newton Aycliffe home for vulnerable children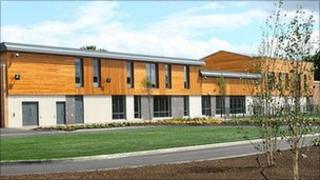 A secure children's unit in County Durham is set to move into a new home.
Aycliffe Secure Centre in Newton Aycliffe looks after vulnerable youngsters, some of whom have committed offences.
Bosses said the previous 43-year-old building was no longer meeting national standard, and risked closure.
Durham County Council was awarded £8.55m in government funding to replace it, and the purpose-built centre will open within weeks.
While staying at the unit, young people are challenged to change their offending or anti-social behaviour.
Each of the bedrooms has a small interactive screen which is used to access educational programmes, homework and offence reduction programmes.
'Complex issues'
These can also be used for TV and as computers but access to this is tightly controlled by staff and is only given as a reward for improved behaviour.
Councillor Claire Vasey, cabinet member for children and young people's services, said: "Some of these young people have very complex issues and are often having a negative impact on their local communities as a result of their behaviour.
"It is essential that these young people are given encouragement and support to change their lives so that they can make a positive contribution.
"The centre is not a prison, it is a secure children's home where young people are helped to change their behaviour and improve their lives. "