Hartlepool cemetery thefts show 'no respect'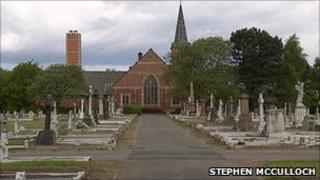 Metal thieves have stolen three brass taps from Stranton Cemetery in Hartlepool.
The taps went missing between Tuesday and Wednesday.
PC John Tyson said: "Grieving relatives rely on these taps to water the flowers they place on graves, so stealing them shows no respect at all."
Hartlepool Council have agreed to step up CCTV around the grounds due to recent vandalism and thefts.
The recent push for security follows a petition signed by more than 2,500 people that was organised by the family of Taylor Stall, who died last year aged four and had sentimental items stolen from her grave.
Alastair Rae from the council said: "There have been a few thefts, including toys from graves. It is really low.
"A Friends of Stranton Cemetery is being established to add to the protection of the cemetery, as well as the CCTV."