Redcar residents get the chance to name 'vertical pier'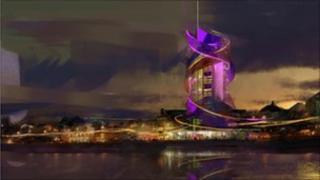 Residents are being asked for their views to name a new permanent landmark to be built in Redcar.
Plans for an 80ft (24m) high structure given the working title of a "vertical pier", will form the centrepiece of a £30m regeneration of Redcar's seafront.
Redcar & Cleveland Borough Council are preparing a competition inviting people to submit their own ideas as to what the development should be known as.
The council want ideas from residents, businesses and schoolchildren.
Set to open in two years' time, it is hoped that the initiative will give the local community a sense of pride and ownership in the seaside attraction.
The "vertical pier" project was developed in the wake of the council's biggest ever public consultation, which took place in 2008 and saw people calling for an iconic attraction to bring visitors and investment to the area.
Although details of the competition have yet to be finalised, it is expected that public views will be invited through an array of different methods.
A panel including representatives of businesses, young people, the local media and the council will draw up a shortlist of the best entries which would then be put to a final public vote.
Councillor Mark Hannon, said: "This planned competition will give the whole community the chance to come together to suggest their own names for this important and exciting development.
"Our ambitious plans for the future of Redcar involve us attracting an extra million visitors each year by 2025.
"The 'vertical pier' project is integral to that vision and I am very much looking forward to seeing the suggestions put forward."
An open design competition by the Royal Institute of British Architects led to Harrogate-based firm Smeeden Foreman devising the winning proposal.
The structure is part of a wider regeneration programme which includes new sea defences being built by the Environment Agency and improvements to the Redcar promenade.