Cleveland Police ex-chief executive gets £362,000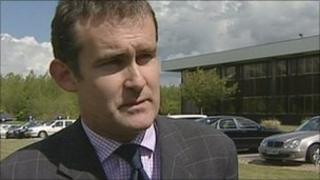 The former chief executive of Cleveland Police received a redundancy pay-off of almost £362,000 last year, it has been revealed.
Joe McCarthy was credited for helping to turn around the force after an £8m black hole was found in its budget.
The payment has been described by the Cleveland Police Federation as "mind-boggling".
Cleveland Police Authority said it was a "huge figure" but that a pay-off was a "contractual obligation".
Police authority chairman Peter Race said: "He was made redundant, and he was entitled in his contract to compensation.
"It was no different to any other redundancy calculation that's probably been done on Teesside thousands of times.
"I would agree it is a huge figure, but it was a contractual obligation."
Stephen Matthews, of the Cleveland Police Federation, said: "I was astounded at the amount of money, I'm sure the money is correct, that the money paid out was completely legitimate.
"We're all being told to pull our belts in, my members are being reduced at a dramatic rate, and to see these figures is mind-boggling."