Approval for £6.5m sixth form college in Middlesbrough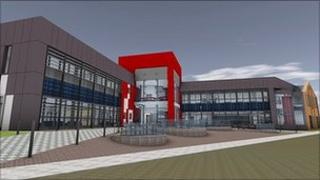 Plans for a £6.5m sixth form centre in Middlesbrough have been approved.
Middlesbrough College's governing body gave the green light to plans to spend the cash on the new site, which will specialise in AS and A Levels.
College bosses expect the new centre will attract 300 additional students into AS and A Levels in the town, from next year.
The centre will include 13 classrooms, tutorial rooms, a student lounge and café and sports facilities.
It has been financed from the college's reserves and work is due to start later this year.
As well as creating jobs during construction, the centre will create 19 full time posts when it opens.
It will be built opposite the existing college, running along Dock Street between Lower East Street and Commercial Street.
Mike Hopkins, Principal of Middlesbrough College said: "The potential for Middlesbrough is in its people.
"The governing body's progressive decision will ensure that young people who want to study at AS and A Level will do so in an outstanding environment for learning."