Hartlepool Tall Ships photo display one year on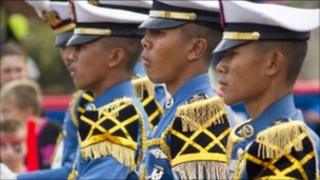 Hundreds of photographs of the four-day Tall Ships Races in Hartlepool event are on show in Hartlepool Art Gallery.
It is one year on from the event that saw 970,000 visitors travel to see the 59 tall ships come into the port.
David Worthington from the council said: "It was a major achievement for the town and these photos capture all the colour, excitement and atmosphere."
Entitled "The Tall Ships - One Year On", the images will be on display from Saturday 25 June to Saturday 27 August.
The exhibition features images - in both colour and black and white - taken by local photographers.
The photographs range from the ships, people and entertainment to views of Hartlepool itself and images reflecting the Tall Ships legacy.
Also on display will be some of the colourful costumes worn by entertainers and others at the 2010 event.