Group of youths kill sheep at Checkerleazes Farm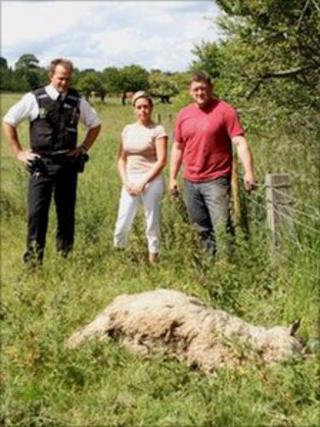 A group of youths have killed a sheep during a "horrific" attack on a County Durham farm.
A passer-by witnessed the gang dragging the sheep by the horns and alerted the owners Jane Seagrave and Ben Stephenson.
They found the sheep strangled on their Checkerleazes Farm at 2000 BST on Tuesday in West Auckland.
Mr Stephenson said was not the first attack they had seen. Durham police are asking for witnesses.
Mr Stephenson said: "It was Tuesday night and we were getting settled down in the house when someone came to the door to say they'd seen young people dragging one of our sheep by the horn.
"We went to investigate and found it dead with rope round its neck.
"This isn't the first attack we've seen. Last year a young lamb had its ears bitten off and a chunk out of its face below the eye - that was a dog attack.
"We also have a settling pond with ducks and swans and someone shot dead two of the adults with an air rifle, leaving the chicks in the nest.
"It's a secluded bit of land surrounded by woodland, the police have said it's a haven for 'up to no good kids' and people who want to run their lurchers.
"Being a land owner you have to accept an element of people going through your land, we accept that but what we can't accept is blatant vandalism and mutilation to stock.
"We have show stock, which are valuable, this was just a breeding mule only worth £80 - £100, but it's not the value... it's what someone's done, it's horrific, it's something which shouldn't be allowed to happen."
A police spokesperson said they were appealing for witnesses and would like to speak to the walker who saw the group attacking the sheep.
RSPCA chief inspector Mark Gent said: "This is a highly unusual case and I'd urge anyone with any information to contact the police, who are investigating.
"To any normal person this act would be barbaric and disturbing. I do not know what would motivate someone to do something like this."