Middlesbrough blast soldier Charlie Wood 'perfectionist'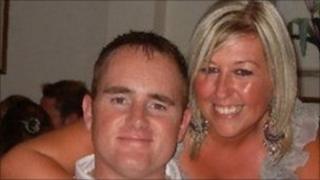 A Middlesbrough soldier was killed in Afghanistan by an improvised explosive device (IED) which had been expertly hidden, an inquest heard.
Warrant Officer Class 2 Charlie Wood was killed as he helped co-ordinate the bomb clearance of a route in December.
The 34-year-old, of 23 Pioneer Regiment, The Royal Logistic Corps, was serving with the Counter-IED Task Force and was described as a "perfectionist".
A verdict of unlawful killing was recorded.
The inquest in Trowbridge, Wiltshire, heard WO Wood was part of two teams who were clearing a route through the Khushdal Kalay area with a view to establishing a checkpoint.
His team was working alongside an Afghan National Police (ANP) IED search team on their first operation since their training.
The ANP team found one device, which was destroyed, before they moved on and the second device exploded killing WO Wood.
The inquest heard he set off the "sophisticated" pressure plate device with his foot.
'Huge character'
Swindon and Wiltshire coroner David Ridley told the inquest the IED had been placed in a location where it was virtually impossible for those doing the search to find it.
Col Gareth Collett, head of army explosive ordinance disposal, told the inquest they had been able to calculate the size of the bomb was 40kg (88lbs).
Cpl Jamie Hewitson, 23 Pioneer Regiment, Royal Logistic Corps, was the search team commander on the day of WO Wood's death.
He told the inquest: "He was a perfectionist. He always strived to achieve the highest standards. He was a very good commander."
After recording his verdict, Mr Ridley said WO Wood had obviously made an impact on the people with whom he served and read out tributes from his colleagues.
Lt Col Mark Davis, commanding officer Counter-IED Task Force, described him as a "huge character".
"He was always on the go, constantly thinking ahead, planning the next stage and working out how best to achieve the mission. And who did he do this for? Certainly not for himself; he did it for his men."