Middlesbrough 'Aladdin's cave of suspected stolen goods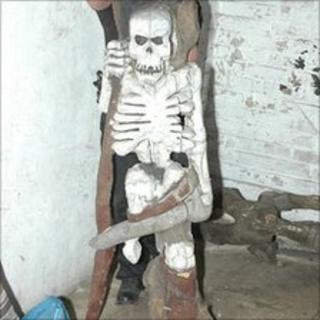 An "Aladdin's cave" of suspected stolen goods has been uncovered by police in Middlesbrough.
The haul of almost 80 items was discovered in a raid on a lock-up garage at the back of Eastbourne Road.
It includes an almost life-size wooden skeleton, a cement mixer, dozens of religious paintings, and a quad bike.
Police said they want to reunite the items with their rightful owners and ask anyone who believes any of the goods to be theirs to get in touch.
Anyone who has information about how they came to be in the garage is also asked to contact Cleveland Police.
A flat bed trailer, an agricultural bowser an old-fashioned wooden rocking horse and a large engraved silver tray, were also among the items found.
Pictures have been placed on force's website.