Wheelyboat gives River Tees access to all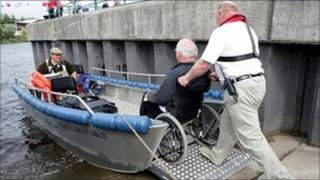 Wheelchair users are now able to travel on the River Tees thanks to a specially adapted motor boat.
The Tees Wheelyboat Club had previously hired in boats, but raised sufficient money to buy a boat with a bow door that forms a ramp enabling disabled access.
It will give mobility-impaired members of the public, safe, dignified and ready access to motorised boating.
The boat will arrive in time for the Take to the Tees event.
Robin Pepper, a volunteer with The Tees Wheelyboat Club, said: "There is a lot of demand and we did really well last year with the rented boats, getting about 100 users over a week.
"These were mainly people from care homes and special education schools.
"It's specifically built with a bow door which acts as a ramp, so it's roll-on roll-off access. And the boat is flat and it's very safe and doesn't jerk around."
"Delivery of the new boat is mid-August which will mean our official launch will be at this years' Take to the Tees."