Matchbox cars to be sold at Vectis auction in Thornaby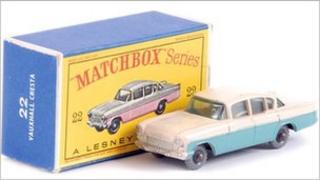 Thousands of Matchbox toy cars worth an estimated £70,000 will be going on sale at auction later.
The collections, from 40 different sellers, are all in pristine condition and are worth about £1,300 each.
There are more than 4,000 model cars going to auction in 520 lots, at Vectis Auctioneers in Thornaby.
Andrew Reed, a cataloguer and auctioneer, said: "This is our bread and butter, we do this every month, but even for us this is a big thing."
"We have two buyers who have flown over from Germany to be here, there are already people in the auction room and more from Europe will be joining in online and on the phone.
"There are so many lots because of the variety of cars.
"Some are low value and in lots together, and then we have some, like the 22 Vauxhall Cresta which is expected to fetch £1,300 alone."