Newton Aycliffe E.ON wind farm consultation extended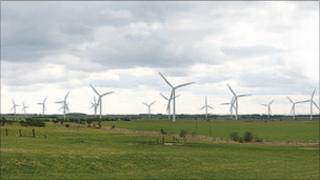 Energy firm E.ON is to extend consultation on plans to build one of England's largest wind farms at a site in County Durham.
The company wants to site up to 45 turbines on land near Newton Aycliffe, which could power about 53,000 homes.
The project has sparked opposition from residents and the local MP, who claim the area already has enough turbines.
The firm said everyone interested in the development would have sufficient time to consider the proposals in full.
Dave Rogers, regional director of E.ON Climate & Renewables, said: "We understand the concerns of communities close to potential development sites.
"We consider ourselves to be a very responsible developer and will ensure that communities close to our proposed wind farm have the opportunity to have their views considered as part of the development.
'Massive scheme'
"We're putting forward three initial designs now, so that people have time to consider our proposals and then come back with any feedback later this summer.
"All feedback will be considered and will help to shape our proposal for the site."
But Labour MP Phil Wilson, whose Sedgefield constituency includes Newton Aycliffe, said: "This is a massive scheme and will cover 16 sq km.
"I believe because of other schemes in the area, the landscape will be full to capacity and cannot take any more turbines.
"County Durham has a proud record on renewable energy, but this scheme is too big and in the wrong place."
A planning application is due to be submitted in late 2012.