Entries flood in to name Redcar's 'vertical pier'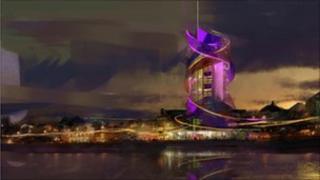 Dozens of residents in Redcar have voiced their opinion on what a new seaside landmark currently known as the "vertical pier" should be called.
A competition on Redcar & Cleveland Borough Council's website has received more than 200 entries inside two weeks.
Suggestions for the landmark have ranged from The View and The Beacon to the Redcar Rock and the Redcar Rocket.
The 80ft (24m) seaside landmark will be built in Redcar as the centrepiece of a £30m seafront regeneration project.
It will offer local residents and visitors sea views from a top-level viewing tower, as well as workshop space for creative businesses and a large ground-floor cafe.
The idea behind the competition is to give the community a sense of pride and ownership in the seaside attraction, which is set to open in two years' time.
Once all the entries are in, an expert panel including representatives of businesses, young people, local media and the council will draw up a shortlist which will be put to a final public vote.
Councillor Mark Hannon said: "We have seen some very creative names put forward already and we look forward to more coming in.
"This competition gives the Redcar community the chance to take a sense of ownership in this exciting development, which is integral to the town's ongoing regeneration."
The council is hoping for many more suggestions as the competition goes on.