BBC Introducing: A Fable For The Curious from Teesside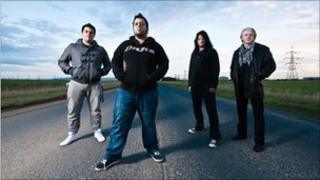 A Fable For The Curious from Teesside describe themselves as a "killer-riff-ridden" band, inspired by the likes of Metallica and Guns N' Roses.
The four-piece have been together for about a year and have already released their own single Don't Say Goodbye.
Playing gigs at the 02 Arena in Newcastle and The Arena in Middlesbrough the band are now going on their own UK tour later in the year.
They then hope to extend their fan base overseas into America and Germany.
Made up of Mark O'Hare (lead vocals and guitar), Michael Heaton (bass guitar), Nigel Waterfall-Brown (drums) and Rich Heward (lead guitar and vocals), A Fable For The Curious are currently shooting a video to accompany their first single.
Musical escape
Vocalist Mark, said: "Inspiration for lyrics and song content comes from life and what it throws at us.
"Music is all we have that separates us from the normal day to day things we have to do. Most people listen to music to escape, we write to escape.
"No matter how you feel, picking up the guitar or whatever you play, for that moment it all makes sense. Without writing or playing, life becomes stagnant.
"The future for Fable is a long and possibly difficult career but we love the music so much we want others to too."
For the band, the best part of their career so far is the growth of their fan base: "The highlight for Fable has to be seeing our lyrics posted on a status on Facebook by someone we didn't know, that's acceptance!
"More than anything, someone being close enough to the music and lyrics that they would advertise them as part of how they feel makes everything we do worthwhile," said Mark.
Next year the band are hoping to release their own debut studio album and play gigs at some summer festivals.
To find out more about Fable For The Curious, visit their Facebook page.