Work to improve Hartlepool's sea defences gets under way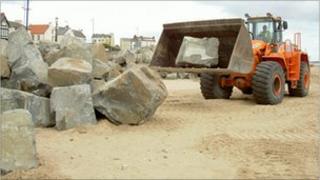 Work to strengthen sea defences along Hartlepool's coastline is well under way.
A £1.5m Environment Agency scheme to build a new wave wall and rock defences along a 500m (1,640ft) stretch of the coast is making good progress.
The work will strengthen Seaton Carew's sea defences after rising water levels were eroding the sea wall.
Hartlepool Council said the first part of the work should be completed by October.
Hartlepool Council's Dennis Hancock, said: "The work has really originated from some events we had in 2006 and 2007 where we lost a set of steps and we had an accident involving a member of the public."
The next stage of the project is set to begin in April 2012 when a new sea wall will be installed.
The scheme will also include the development of a new 80m (3ft) wall formerly occupied by the North Shelter, along with a new promenade with a seating area and new lighting.