Swarm of bees rescued from road sign in Teesside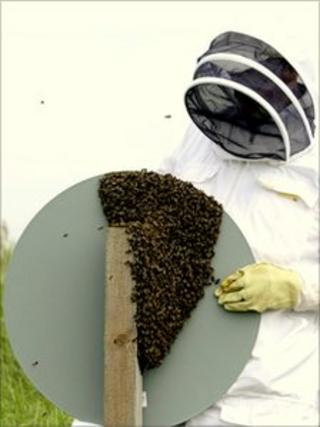 A swarm of 20,000 honeybees is settling in to a new home after being rescued from the back of a Teesside road sign.
Staff at Saltholme wildlife reserve were shocked to find the colony living on the back of a sign post.
Emma Dickinson, from Saltholme, said: "I've never seen anything like it - the swarm covered a quarter of the sign and was at least 10 centimetres deep.
"We're really happy that the rescued bees are now settling into a new hive in nearby Middlesbrough, giving them a plenty of time to do what they do best - pollination."
When staff discovered the thousands of bees, they contacted the Cleveland Beekeepers Association for help.
Derek Herring, from the association, who collected the bees, said: "There were around 20,000 bees in the swarm, which is quite impressive.
"As the bees don't know how long it'll take them to find a new home, they fill their stomachs with honey to keep them going before they leave the hive.
"This means that swarming bees are fairly docile, it's like they're feeling bloated after eating a heavy meal."
The Cleveland Bee Association asks anyone who finds a swarm of honeybees to visit its website for help and advice.