Darlington school St Aidan's scoops Turner Prize honour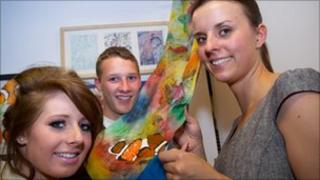 Part of a Darlington secondary school is being turned into a mobile cafe - and it's all in the name of art.
St Aidan's Church of England Academy was one six schools in the North East to be honoured with the event based on the Turner Prize.
As one of the winners, the school will have a temporary cafe installed to host a series of workshops inspired by The Turner Prize 2011 nominees and led by artists from the region.
The competition coincides with the Turner Prize being staged at the Baltic Centre for Contemporary Art in Gateshead in the autumn.
The school won the prize with an entry that included quotes from students attached to balloons which sprang free from boxes.
Art teacher Faye Woodhouse said: "When we discussed the idea, some of the students did not even know who Turner was.
"Some students think that because they cannot draw, art is not for them but we are encouraging them to think again."
The workshops will be filmed and photographed to be part of an exhibition at the Baltic when it hosts the Turner Prize 2011 between October 21 and January 8.
Other North East schools who have won the Turner Prize Cafe competition are Durham Gilesgate Primary School, Joseph Swan school in Gateshead, Chillingham Road Primary School in Newcastle, Toner Avenue Primary School in South Tyneside and Burnside Business & Enterprise College in North Tyneside.