London 2012: Teesside preparations under way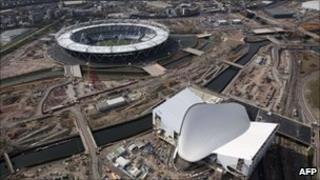 As the London 2012 Olympic countdown begins in earnest, anticipation is mounting on Teesside.
Young sports stars will be in Middlesbrough's Centre Square to mark a year to go before the Games start.
Businesses in Darlington and Bishop Auckland are among the North East firms to share the £100m of 2012 contracts awarded to firms in the region.
And attention will be now be on Olympic hopefuls such as long jumper Chris Tomlinson and swimmer Jemma Lowe.
Middlesbrough's Tomlinson clinched a new national record of 8.35m in Paris earlier this month.
And Hartlepool's Lowe reached the final of the 100m butterfly at the World Championships, in Shanghai, this week where she came eighth.
'Excitement mounting'
Despite being many miles from London, there will be plenty happening on Teesside with the countdown under way.
Middlesbrough Council's executive member for public health and sport, Councillor Brenda Thompson said: "The excitement is mounting ahead of next year's Games and with a year to go, Middlesbrough has a very real role to play."
Young sports stars from the Future Champions and Gifted and Talented schemes will be in Middlesbrough's Centre Square for the year-to-go event.
In the evening, BBC One's Olympics 2012: One Year to Go programme will be shown on the Big Screen.
Next year, the Olympics and Paralympics will be shown there.
Middlesbrough will be one of the evening stop-offs for the Olympic flame during the torch relay leading up to the Games.
There will be an evening of events in the town to mark the flame's arrival on 17 June.
Middlesbrough Council's sports development team has drawn up a 100 days of sports programme with the aim of encouraging people to take up a new sport or return to one they have tried before.
Among the businesses to be awarded 2012 contracts were Bishop Auckland's Hathaway Roofing.
It is near to completing a £4.9m project for external features, including roofing and cladding, of the broadcasting centre on the Olympic site.
Training hopes
Darlington's Cleveland Bridge manufactured and built two bridges in a £1m project.
Others to win contracts included Sotech Ltd, of Peterlee, and Varley and Gulliver, in Middlesbrough.
There are hopes Olympic athletes will train at Stockton's Tees Barrage white water course after a £4.6m revamp.
It had been hoped the course would have been opened already but it is now due to be completed in September.
Tees Active managing director Steven Chaytor said that had meant no athletes had committed to using it to train yet, but he was hopeful that would change once they saw it in operation.
He said a number of countries were "alert to the fact" that it will be opening.
He said: "We think it's likely that there will be some training camps here."
While the length and width of the barrage course will be different to the Olympic course, the blocks being used in both courses to create the white water effect will be the same.